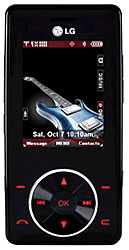 On Saturday I was eligible for my "New Every Two" discount from Verizon Wireless, so yesterday I went to the Verizon store and upgraded to the new LG Chocolate. It's a sleek, black phone that looks way more like an iPod than a phone, obviously because they're trying to encourage people to listen to music on their phones. It slides open to reveal a keypad when you want to use it as a phone, and the rest of the time it's really small and thin.
Verizon didn't have the cable yet to transfer my phone book from my old phone, but with a USB cable and BitPim (set for the VX8300, which is pretty much compatible), I was able to transfer my phone book as well as all my photos. BitPim also let me create a custom ringtone out of an MP3 of "Such Great Heights," so that was pretty awesome.
Verizon uses Windows Media Player 10 to sync music to the phone. It only comes with a tiny 60MB of memory, just enough for about an hour of music, so I put the Postal Service's Give Up on there, and I might get a microSD card later to store more music.